product
Spring is here and so are these 15 new features 🌱
The 15 most useful new features we launched this spring so far.
Christoffer Klemming
Thu Mar 08 2018 • 5 min read
We're all about getting new useful features in your hands quickly. But we know that it's easy to miss what's been launched!
So without further ado, here are the 15 most useful new features we launched this spring so far.
---
Resource management 📦
"Resources" are things that your clients use as part of their visit. For example, if you're a restaurant, these may be your tables or if you're a rental service it may be your cars or bikes for rent.
1. Add your resources
Add your resources under Resource Settings. You can have different resource categories.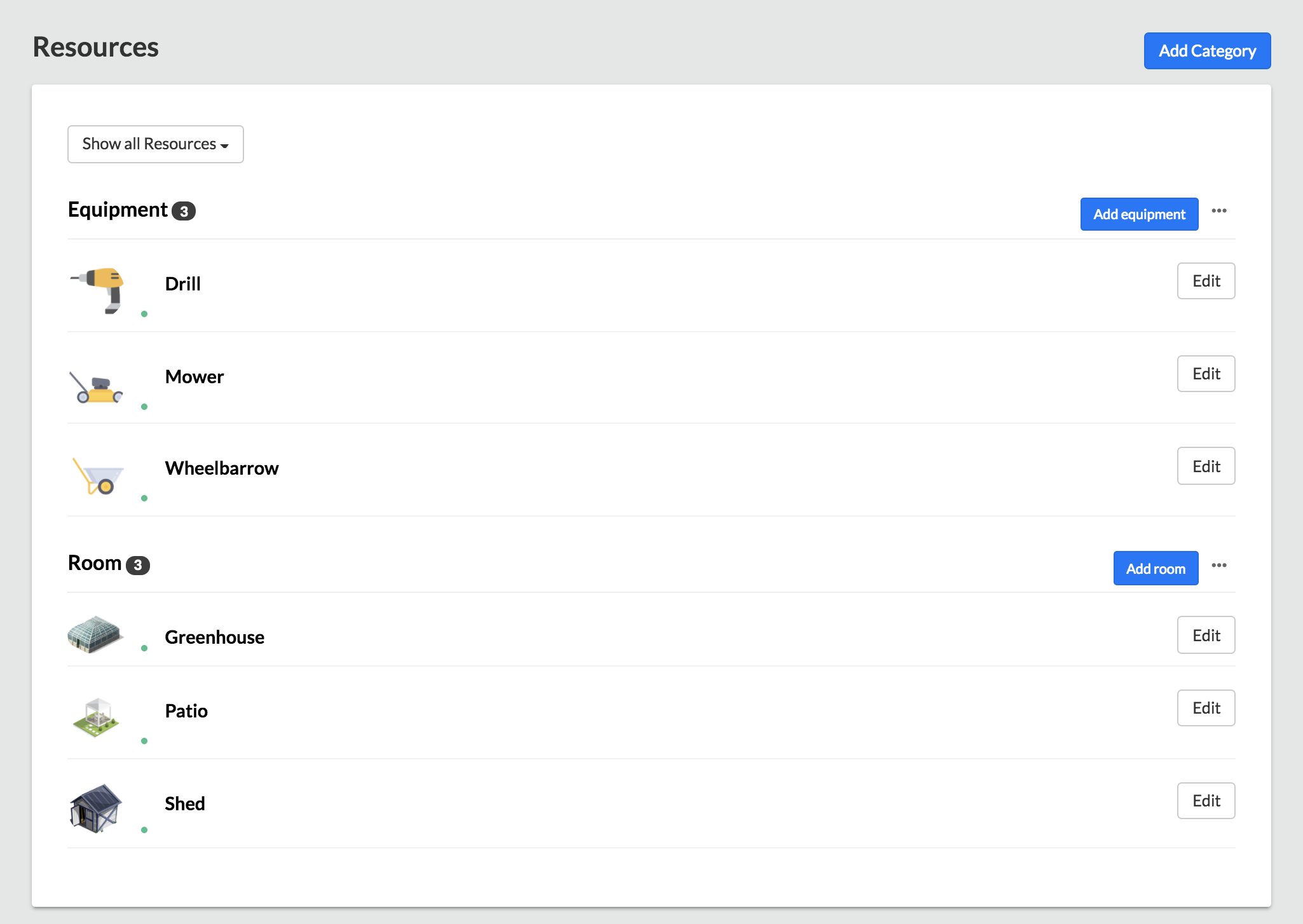 2. Customize a resource
Each resource can be tailored for your business with it's available hours and how it can be used.
3. Assign a resource
When a new customer is added to your waitlist or booking, you can assign them a specific resource.
Your customers can also select one when checking in.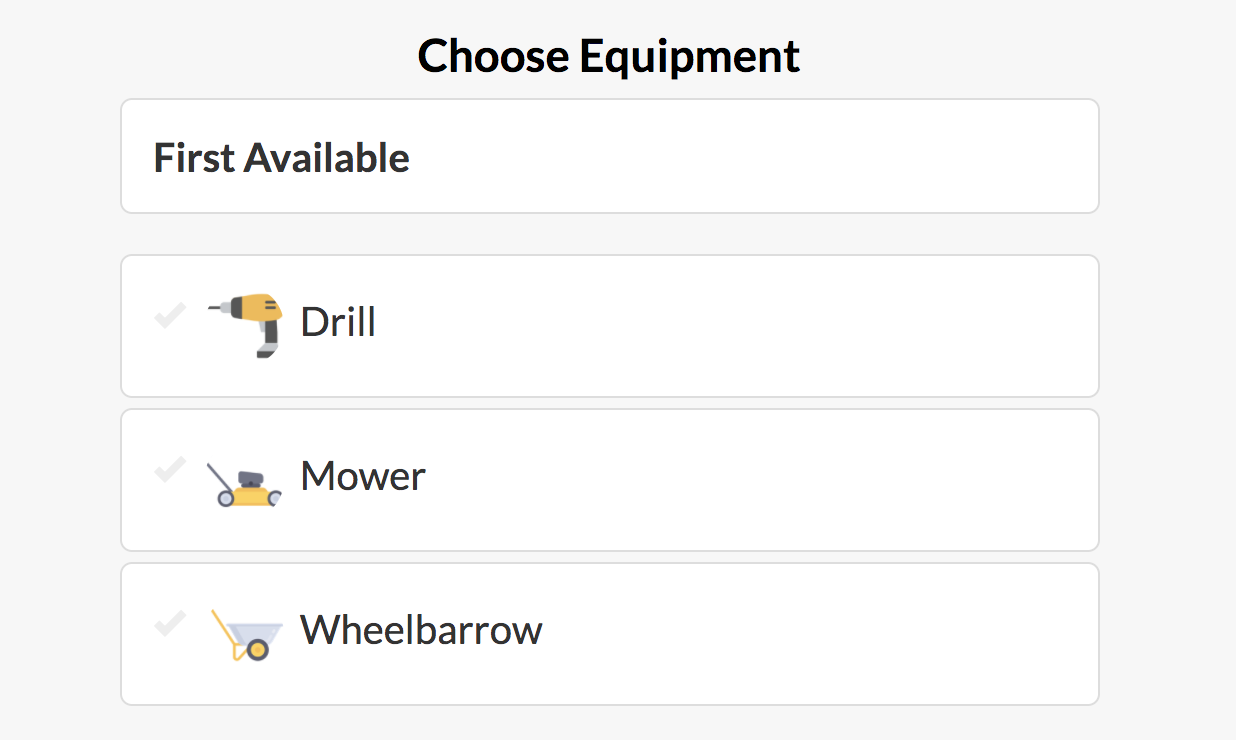 Our system will show each resource's wait time and how it's being used, so you know which resources you need to get more of.
---
Your Services 🛍️
Services are what you do for your clients, like a haircut at a barbershop or a counseling session at a school. Waitwhile now gives you much more control over your services.
4. Manage your services
Add and manage your services under the new Services Settings. You can group your services under different categories like so: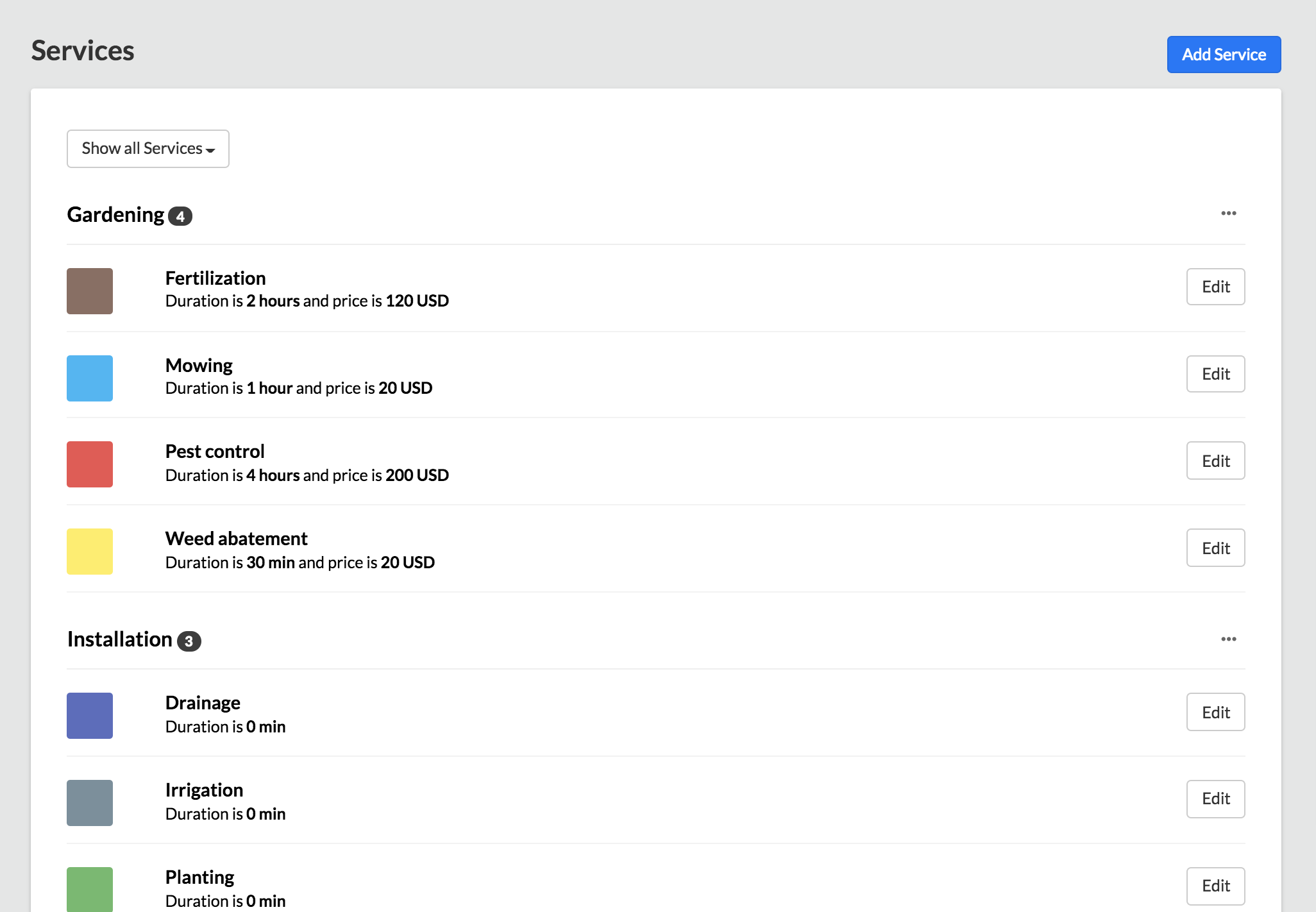 5. Customize a service
Each service can be tailored with its price, duration and much more.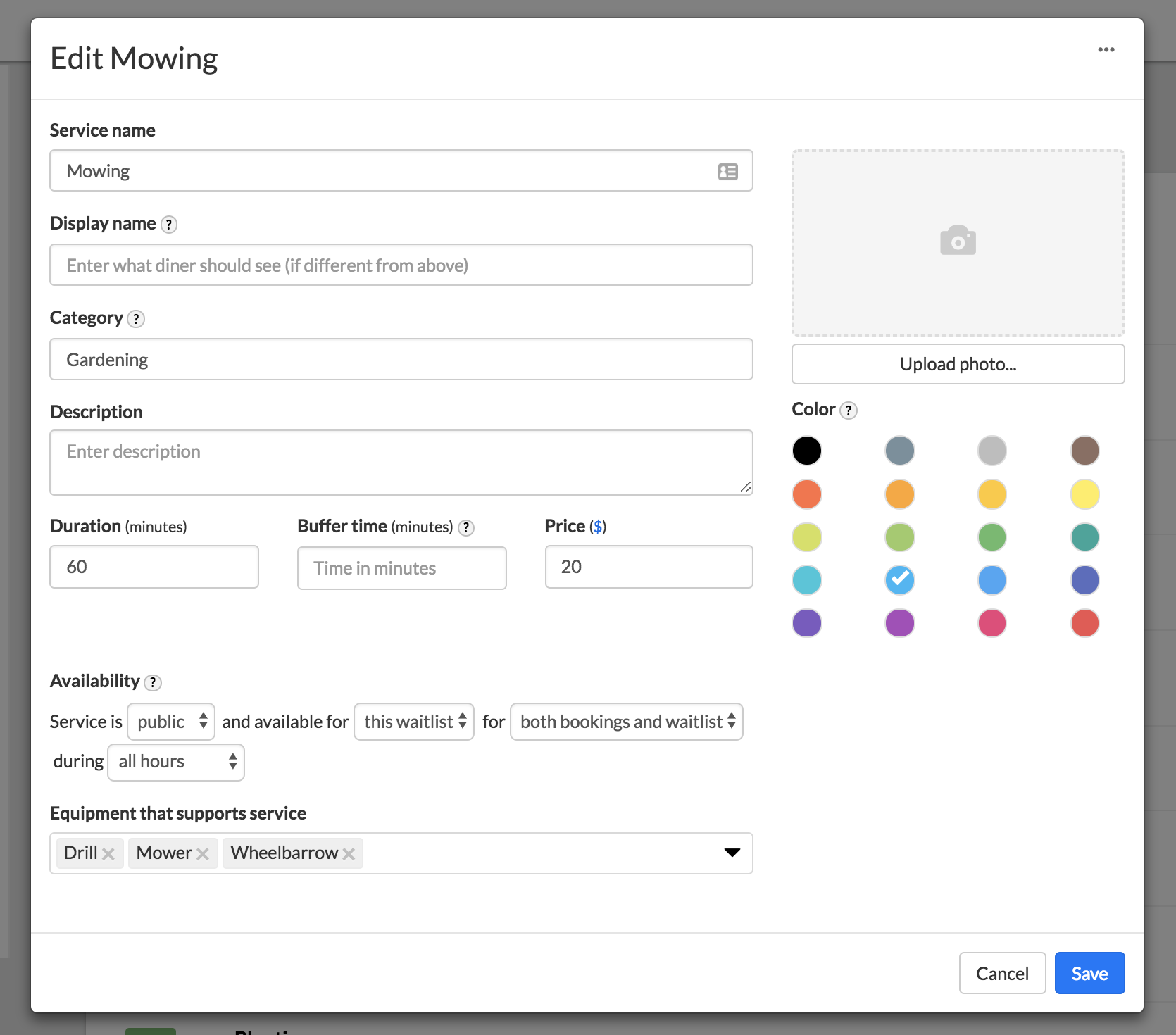 6. Availability of services
You can set how your services should be available. For example:
Only available Monday's at 2pm-5pm.
Only for internal use and not visible for customers
Only for bookings and not for walk-ins
7. Set your currency
You can now change your currency to something other than US Dollars under About your Business so that your customers don't get all 🤔on you.
---
Bookings 📅
Waitwhile let's you schedule bookings alongside your waitlist and we've just upgraded it!
8. Different time durations
We now allow you to book different durations.

9. Show bookings in waitlist
We now sync your bookings with your waitlist auto-magically so that the wait time for walk-ins include upcoming appointments.
Wow, that was a mouthful so let me explain with a simple example.
Jack has an appointment scheduled for 5pm today
At 3.30pm today Jack will be moved into the waitlist (and it will say "Booking at 5pm" next to his name)
Jack shows up at 5pm and will be first in line and ready to be served!
Waitwhile will calculate how long before the scheduled time to waitlist the customer so that they're 1st in line when they show up.
Here is how a synced booking looks: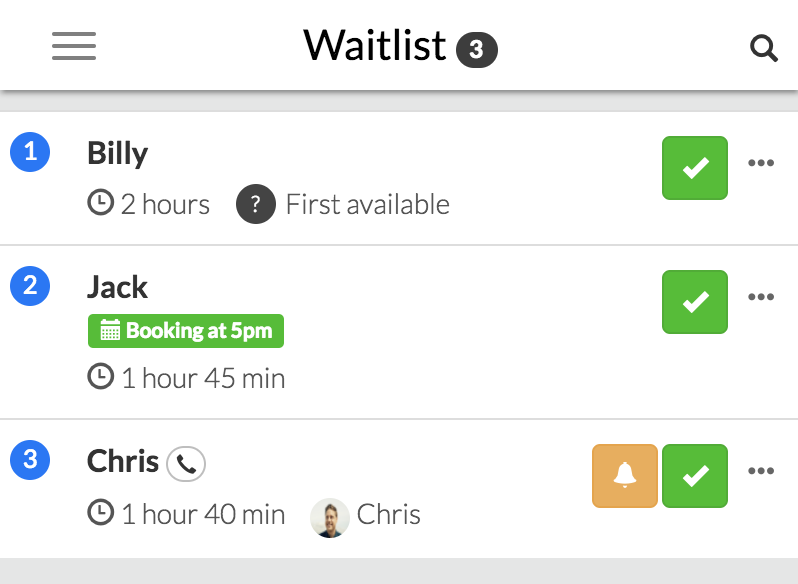 We think Waitwhile is the only product in the market that does this so are very excited to hear what you think!
---
Customize your Waitlist 🔧
10. Add new input fields
It's now easier to capture more info about your customers by adding new input fields to your waitlist. You can choose between different types:
Text fields are great for names and basic text info
Text areas are useful when you want lots of info, like customer feedback or a problem description.
Number is for when you want to capture age or some other number
Checkbox is awesome when you want to get a customer's consent for sending a newsletter
Date can be used to capture birth days or other dates
Multiple Choice is when you have different options to choose from like below: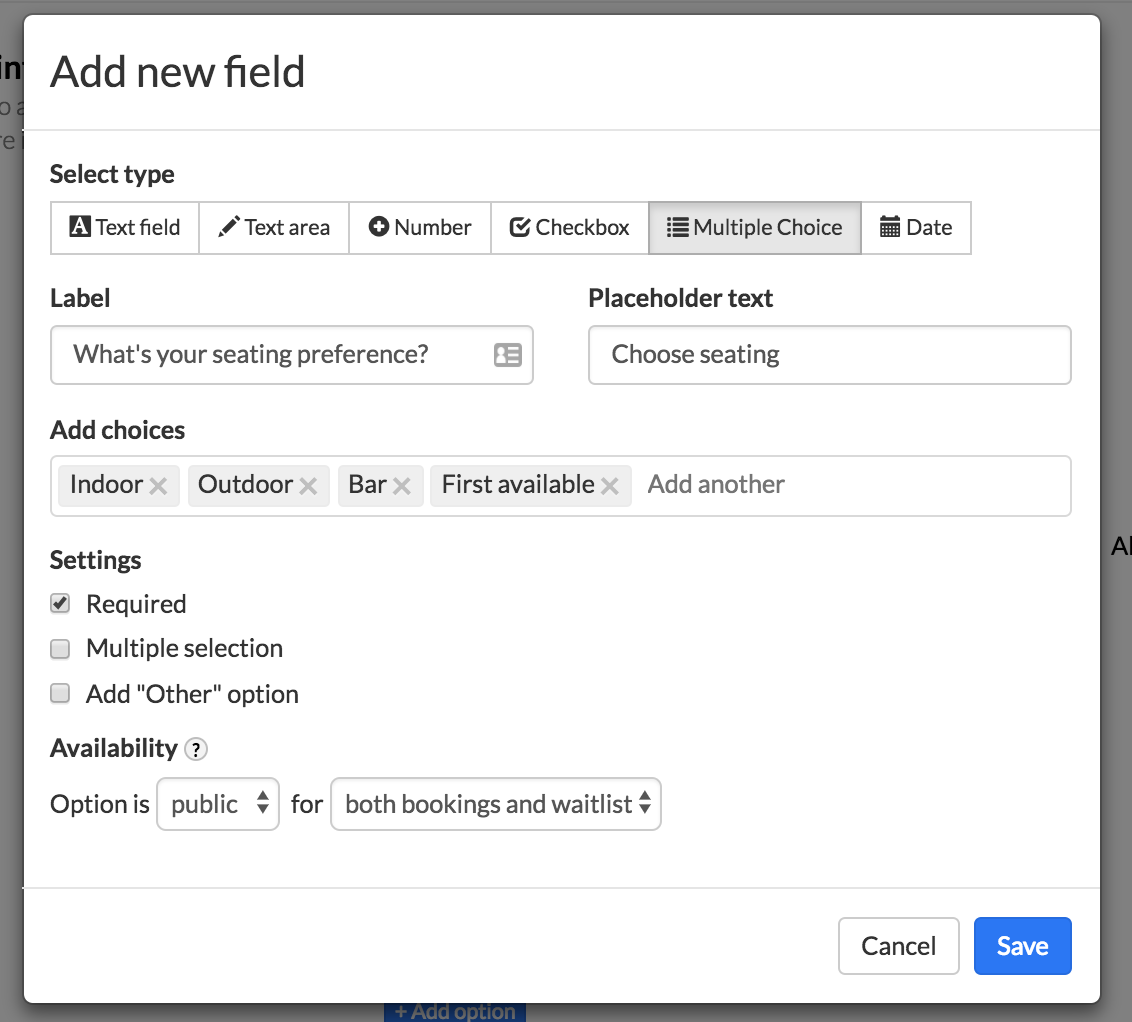 11. Your Policy
Do you have a business policy that you want your customers to accept? Now you can!
Just add your policy to About Your Business and voila!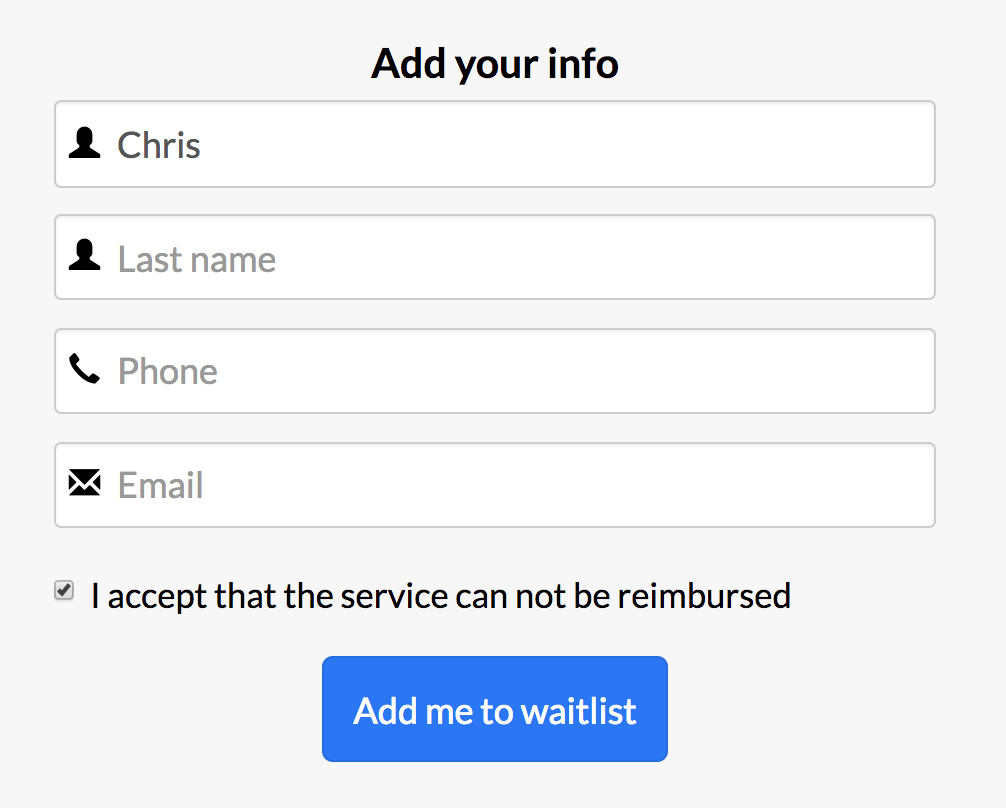 12. Connect waitlists in sequence
Do you have a complicated flow that your customers go through? If you're a clinic, maybe your patients first wait in your reception area for a lab test and once the test is done they'll wait for a doctor to discuss it?
We know this isn't for everyone, but now Waitwhile let's you connect your waitlists together.
Once connected, when you complete a customer under the Serving page you get the option of moving them to another waitlist: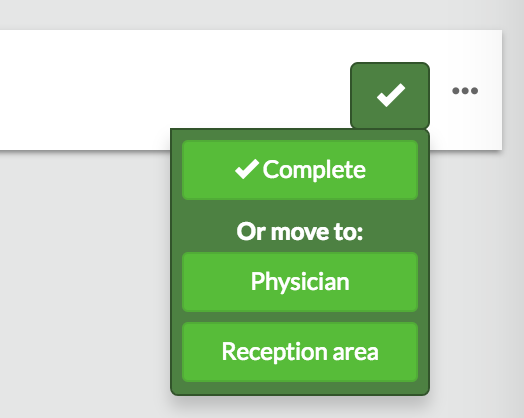 To turn it on, go to Waitlist Settings > Advanced > Serving page > Move completed customer to other waitlist and choose the waitlists!
---
Integrations & API ⚙️
Waitwhile makes it easy to integrate with your other tools that you use every day.
13. API
With the Waitwhile API you can now do (nearly) everything in your waitlist programatically.
Want to add a new customer to your waitlist every time someone does a purchase in your Point-of-Sale system? Easy, just use the API method "Create waiting guest".
Want to get the current wait time to show in your app or website? Easy, just use the API method "Retrieve waitlist status"
To get started, get your free API token under Integration Settings!
14. Webhooks and endpoints
With Waitwhile Webhooks you can subscribe to all waitlist events and activities. For example:
Every time a customer checks-in to your waitlist, send their information to SalesForce CRM
Every time you serve a customer in your waitlist, send them a feedback survey through MailChimp
Opportunities are almost infinite!
15. GDPR support
If you work with European clients, General Data Protection Regulation (GDPR) is probably something you are thinking a lot about. Basically, it's a set of new requirements of how you manage customer data in EU that goes into effect on May 28, 2018.
The good news is that Waitwhile has you covered. We have worked hard to ensure our service is GDPR compliant (more in our Security policy). We've also made it easy for you to ask for consent from your customers.
Just turn on Waitlist Settings > Advanced > Security > Require data consent and your customers will now have to opt-in to your data consent before signing up to your waitlist!
---
Hope this was helpful! We promise to keep shipping improvements every day and we would love to learn from you what you want us to ship. Just send us an email on hello@waitwhile.com with your ideas!
Happy waitlisting!